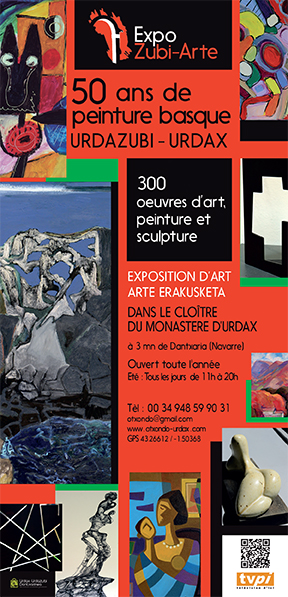 Exhibit in the cloister of Urdax. Over 200 works of art are presented in the aisles of Urdax´cloister. All have been created by painters who figure amongst the great Basque artists of our time. If the art works "change" constantly, the exhibit is in principle, a permanent one.
Regarding the painters, 15 artists have been selected as worthy representatives of the Basque painting from 1950 at the present. Thus, next to José Luis Zumeta: Christine Etchevers, Iñaki Ruiz de Eguino, Monique Leinert, Oaia Peruarena, Patxi Aranoa, Pier, Roger Bravard, Aitor de Mendizabal, Txomin Toyos, Xavier Obeso, Jabier Alkain and Irkus Robles Arangiz.
Regarding the sculptors, one finds in the cloister: Aitor de Mendizabal, Tomas Fischer, Tista, Iñaki Ruiz de Eguino, Juan Gorriti, Ramon Ruiz Cabestany, Iñaki Olazabal, Edouard Solorzano, Louis Derbré, Lesagibel, Koldobika Jauregi, Joseba Estarta and Luis Alberto Ospitaleche.
All these contemporary artists symbolize in and of themselves the wealth of the pictorial creation in Basque Country today. While they embody very different universes and styles, they are nevertheless complementary.